Campuses are seeing a growing influx of universities of applied sciences as well as businesses that are seeking new ideas and operational efficiency through close cooperation.
The past year was a very positive one for the Finnish economy and for University Properties of Finland. We were able to take advantage of the favourable economic climate, as reflected in our good performance in leasing and selling premises that had become vacant.
Our efforts to develop Finnish university campuses are producing good results. One example is the planned 2020 move of the Oulu University of Applied Sciences to share a campus with the University of Oulu. This move will see research, development and innovation activity in the Oulu region become increasingly focused on the Linnanmaa campus.
The business sector has found its way to campuses elsewhere in Finland as well. During the past year, we established new customer relationships with many companies for whom being located in close proximity to research and development activities is a clear strategic choice. Universities are now better equipped than ever to engage in effective cooperation with businesses. Organisations other than universities now represent nearly 10 per cent of our tenant base.
We develop premises in cooperation with their users
For several years now, we have utilised the joint development model to ensure that the users of premises are closely involved in planning and design. We completed several renovation projects during the year to enable premise users to move into jointly developed work and research environments. We applied the same approach to the relocation of our own office in Tampere in the early autumn.
Our success has been recognised in Finland as well as abroad. In January 2018, the Finnish Association of Building Owners and Construction Clients (RAKLI) selected SYK as the 2017 Property Developer of the Year. The jury justified its selection by highlighting our efforts to drive the evolution of property development through experimental projects as well as our use of campus development to link city strategies and property management. Our Kampusareena building at the heart of the Tampere University of Technology campus received an innovation prize in the Interreg Europe InnoBridge project.
We continued the renewal of our organisation in 2017 in response to the changes in our customer base. Our tenants are increasingly non-university organisations, such as businesses driven by research and development. Our new Customer Relations and Services unit is responsible for maintaining close interaction with customers as well as new customer acquisition.
Making progress towards our vision
We have made strategic progress towards realising our vision of being Europe's most valued campus developer in 2019.
We lead the way in diversifying campuses, making the use of research environments more efficient and increasing cooperation with businesses. We strive to achieve close integration between university campuses and the surrounding economic areas. We believe this is a responsible strategy that will serve society well in the long run. Learning facilities must be utilised more efficiently and ecologically than they are now.
We look to the future with a great deal of confidence. We expect the economic climate to remain favourable in 2019.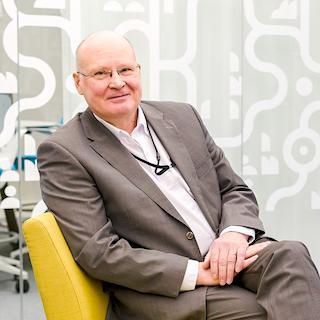 Mauno Sievänen
CEO