"Things work better when people are healthy and happy"
The year 2017 was a memorable one for SYK employee Laura Stortz. Having been with the company since the very beginning, Laura took on a new role as HR Coordinator in 2017.
When Laura started at SYK in 2009, there were only four people on the payroll. Her responsibilities included rental invoicing and maintaining the property register and contract register. She also handled day-to-day HR duties such as employee benefits and salary statements.
Eyes and ears open
In early autumn, Laura began to work on HR duties on a full-time basis. Her first year in the new role was characterised by getting a handle on her new tasks and preparing the necessary plans.
"I try to keep my finger on the pulse of how our people are feeling and what they are thinking. This helps me figure out ways to make them even more satisfied with their jobs. We are a small group of just 35 people, so there is room for everyone's opinions to be heard," Laura says.
She appreciates the fact that the employer is committed to investing resources in improving job satisfaction.
"My job is to give people the opportunity to focus fully on what they do. Things work better when people are healthy and happy," she explains.
Different kinds of workspaces for different needs
Laura will also remember 2017 for SYK's move to a new office in the Tietotalo building in Hervanta. The goal of the relocation was to use joint development to create an office that serves the needs of SYK's employees even better than before.
Laura's favourite aspect of the new office is that the space is divided into different zones.
"The zone reserved for quiet work is great for doing things that need concentration and a bit of privacy. In the loud zone, you can hear background music in a wide variety of genres. The first person to grab the Spotify speaker gets to choose the song. The music we end up listening to ranges from Bach cantatas to humorous folk music," Laura explains.
An injection of new energy in the ranks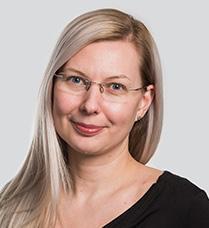 The past year was also characterised by organisational renewal, which saw the company bolster its ranks. This recruitment drive will continue during the winter. New employees take up a lot of time in the average day of an HR Coordinator, but they also introduce new perspectives to daily life at SYK.
A new personnel club, an initiative that had been frequently suggested by the employees, was established late in the year.
"We haven't really had time to get started yet, but there are plans in place for winter sports club activities at least. We have a number of enthusiastic downhill skiers among our employees," Laura says.